Opera Mini: ఒపేరా మిని మొబైల్ వెబ్ బ్రౌజర్...అనవసర యాడ్స్ నుండి రక్షణ కొరకు మంచి బ్రౌజర్
Opera Mini: మీ మొబైల్ లో ఒక వెబ్ పేజీ ని చూస్తూ ఉన్నప్పుడు, లేదా ఆ వెబ్ పేజీ మీద క్లిక్ చేసినప్పుడు అనవసర యాడ్స్ తో వెరే పేజీలు ఓపెన్ అవ్వడం మీరు గమనించే ఉంటారు.
కొన్ని రకాల యాడ్వేర్ లు మన మొబైల్ బ్రౌజర్ లోకి ప్రవేశించడం ద్వారా ఇది జరుగుతుంది. ఇలా అనవసర యాడ్స్ ఓపెన్ అవ్వకుండా ఉండాలంటే ఒపేరా మిని ఒక మంచి వెబ్ బ్రౌజర్. దీని వలన డేటా కూడా చాలా ఆదా అవుతుంది.
ఇక్కడ క్లిక్ చేసి ఒపేరా మిని వెబ్ బ్రౌజర్ ను ప్లేస్టోర్ నుండి ఇన్ స్టాలు చేసుకొండి.
Opera Mini is all about speed and comfort, but is more than just a web browser! It's lightweight and has a massive amount of functionalities all in one app! 🎉
⚡️ Fast Speed: surf the internet faster, even on slow or congested networks!
🗂 Offline File Sharing: send and receive files securely without data usage. Super Fast!
🎦 Funny Videos: trending viral videos & short clips to entertain yourself.
📢 Breaking Headlines: live local news in 10 different local languages for India!
❤️ Entertainment: the latest news about celebrities. See more from Bollywood!
🏏 Live Cricket Updates: live scores and matches on the go. More sports, more fun!
💰 Save Data: save up to 90% of your data and browse faster - smart browsing.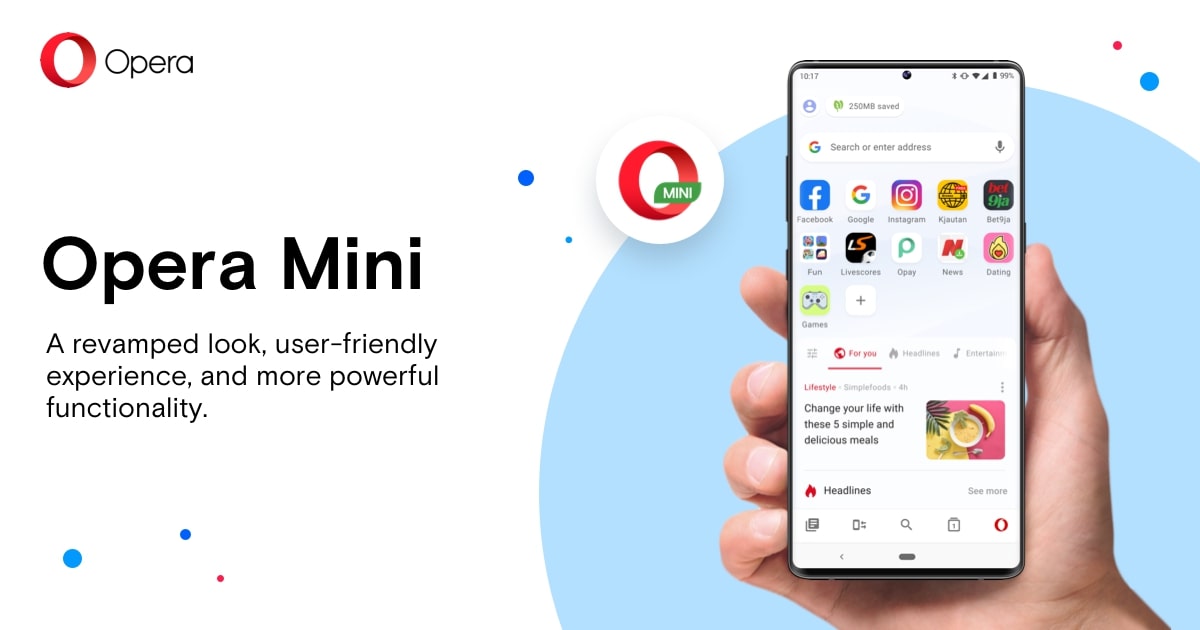 గల్లీ టూ గ్లోబల్ అప్డేట్స్.. ఆసక్తికర వార్తలు, విశ్లేషణలు, ఆరోగ్య విషయాలు, శాస్త్ర సాంకేతిక విషయాలు..మరియు దమ్మున్న వార్తలు.. వాట్సాప్ ద్వారా పొందాలంటే.. మా నెంబ‌ర్‌
+91 94923 07181
కు,
LATESTNEWS
అని వాట్సాప్ ద్వారా మెసేజ్ పంపండి..(ఒన్ టైం మెథడ్ మాత్రమే, మీరు మెసేజ్ పంపినపుడు మాత్రమే లేటెస్ట్ న్యూస్ మెసేజ్ మీకు చేరుతుంది.)
ALSO READ: